Arthur Hills – 1930-2021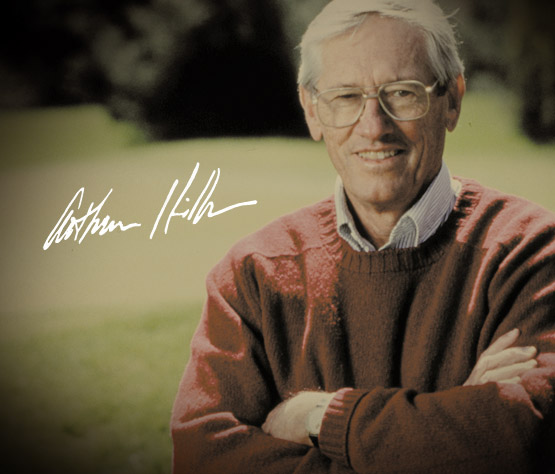 Arthur Hills' prolific, award winning golf course design career started in 1967 in Toledo, OH, and grew to include over 200 courses and 150 renovations across 32 US states and 20 foreign countries.
Arthur Hills graduated from Michigan State University where he was a member of the golf team, and later earned a landscape architecture degree from the University of Michigan. Hills launched his professional career by placing an ad in the Toledo Yellow Pages under "Golf Course Architect", during a time when he was operating a landscape contracting business. Breaking into the field in the 1960s and 70s without golf's political connections or a professional playing history common to other golf course architects of that time, Hills rose to stature by creating award winning designs loved by players, critics, and most importantly to him, his clients. Indeed, it was his clients' successes that brought Hills more fulfilment than any other accolades, and his honor roll includes twenty clients for whom he designed multiple courses.
Early in his career, Hills was considered somewhat of a hidden gem in the field of golf course design, but during the building boom of the 1990s, golf's leading publications bestowed Arthur Hills with such monikers as "Golf's Hottest Architect", and "Architect of the Year", in addition to including his designs in Top 100 rankings, Best in State rankings, and winning "Best New Public" and Best New Private" courses multiple times. By the end of the decade and into the next century, Hills was considered among the most sought after architects in the world, with a fitting tag line from one leading golf publication reading: "Does this man ever sleep?"
More than fifty Arthur Hills designs or courses he renovated have been chosen to host prestigious tournaments and events on the PGA, LPGA, Senior PGA, and European PGA Tours, in addition to USGA Championships (US Opens), collegiate championships, mini-tour events, a Ryder Cup, and nationally televised made-for-TV events like the annual Skins Game and Shell's 'Wonderful World of Golf' match play event – all played at multiple Arthur Hills golf courses.
Of all the awards and accolades bestowed upon Arthur Hills' designs however, perhaps the greatest testament to his broad and enduring appeal occurred rather quietly, when, in the only poll of its kind conducted in the mid 1990s, 535 course rating panelists for Golf Digest Magazine selected Arthur Hills as one of the Top Five "Favorite Present-Day Architects."
Arthur Hills was an environmental pioneer with the design of the first Audubon Signature Sanctuary courses in the United States (and the World), Mexico and Europe, and was universally revered throughout his career for his ability to route his golf courses so naturally onto existing terrain. He made sure his designs were never too costly for owners to maintain while still creating provocative, strategic, and often stunningly beautiful courses that were and are always fun to play.
A past president of the American Society of Golf Course Architects, Arthur Hills also mentored 35 budding golf course architects who worked for his firm over his 50 year career, including 11 ASGCA members, many of whom pursued successful careers of their own. Mr. Hills assembled a company of professional golf course design associates that rivaled any in the country by the end of the century. The Arthur Hills Legacy lives on not only in hundreds of Arthur Hills designed golf courses, but also through the continuing work of these skilled disciples.
Other than when traveling, Arthur Hills spent most of his life in Ohio and Michigan, and has been inducted into both the Ohio and Michigan Golf Halls of Fame as well as recognized with a lifetime achievement award by the Michigan Golf Course Owners Association. Not to be outdone by the Midwest, however, famed architect Pete Dye – in slightly less official capacity – once dubbed Hills "the Mayor of Naples", for his 23 beloved designs in and around that popular Florida retirement destination.
You may Click Here for an abridged list of Arthur Hills designed golf courses
To post a tribute or memory of playing, or working on an Arthur Hills golf course, or working with Arthur Hills himself, you may Click Here, for a Facebook tribute page, or visit reebfuneralhome.com.
To view the Arthur Hills obituary, you may Click Here.