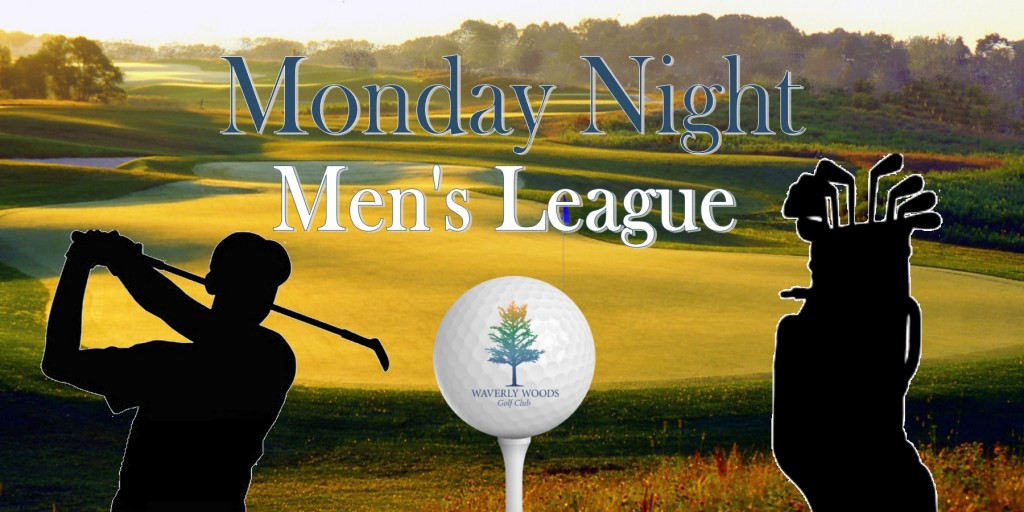 Each week features a different format. Payouts (Gift Certificates) are based on how well you do in each of the weekly  format challenges. Everyone also receives "Arthur Hills Cup" points based on their weekly net score.  The top 16 Arthur Hills Cup points leaders in each flight at the end of the regular season move on to the Arthur Hills Cup Playoffs. Those players will have the chance to be crowned our Men's League Champion.
Scroll Down to the Bottom of Web Page for Registration Form & Payment Link
---
League Fees
Registration Fee: $100  Paid Online via our website store.
Includes Crab Feast & BBQ Night (In Aug. or Sept. – Date TBD)
Handicap Services Provided Thru GolfLeagueSite.com
Tournament Services – Including LIVE Scoring
Weekly fees: $40 per player
Of this fee, $5 is set aside to fund weekly and year end prizes.
Qualifying Annual Members will pay a $17 weekly fee.
The weekly fee is the same whether you walk or ride.
Schedule
Weekly Format Challenge
 Each week features a different format. Payouts are based on how well players do in each weekly format challenge. Weekly Payout will go to the Top 10 Players and Ties. Roughly $4 of the $5 prize fund collected each week will go to weekly payouts and the remainder will go towards the playoff winners.
Players also receives "Arthur Hills Cup" points based on their weekly (non-format) net score. 
 Prizes will be distributed using league issued gift cards. Once you receive a gift card, it is required of you to keep that gift card while you are a member of the league. We will add any winnings remotely to your registered card throughout the year. The two things your league gift card is not valid for are, weekly league fees, and F&B items. You may use your winnings on anything else sold from behind the proshop counter. Use it on weekend Green Fees, displayed merchandise, special order clubs/apparel, range balls, or even towards a membership.
Arthur Hills Cup Points
Cup points are distributed by how well an individual or team does, playing against the field using the Net Stroke Play scoring system. No matter what weekly format challenge is scheduled, every player will play a normal 9-Hole round of golf.  We no longer make people play with 5 clubs, alternate shot, or do some other silly game that would take away from the enjoyment of you playing your own ball on every shot, each & every week.
Regular events will increase by 5% each week using a FedEx style point system.
"Major" Events will be worth 25%
Points will be used to determine playoff rankings.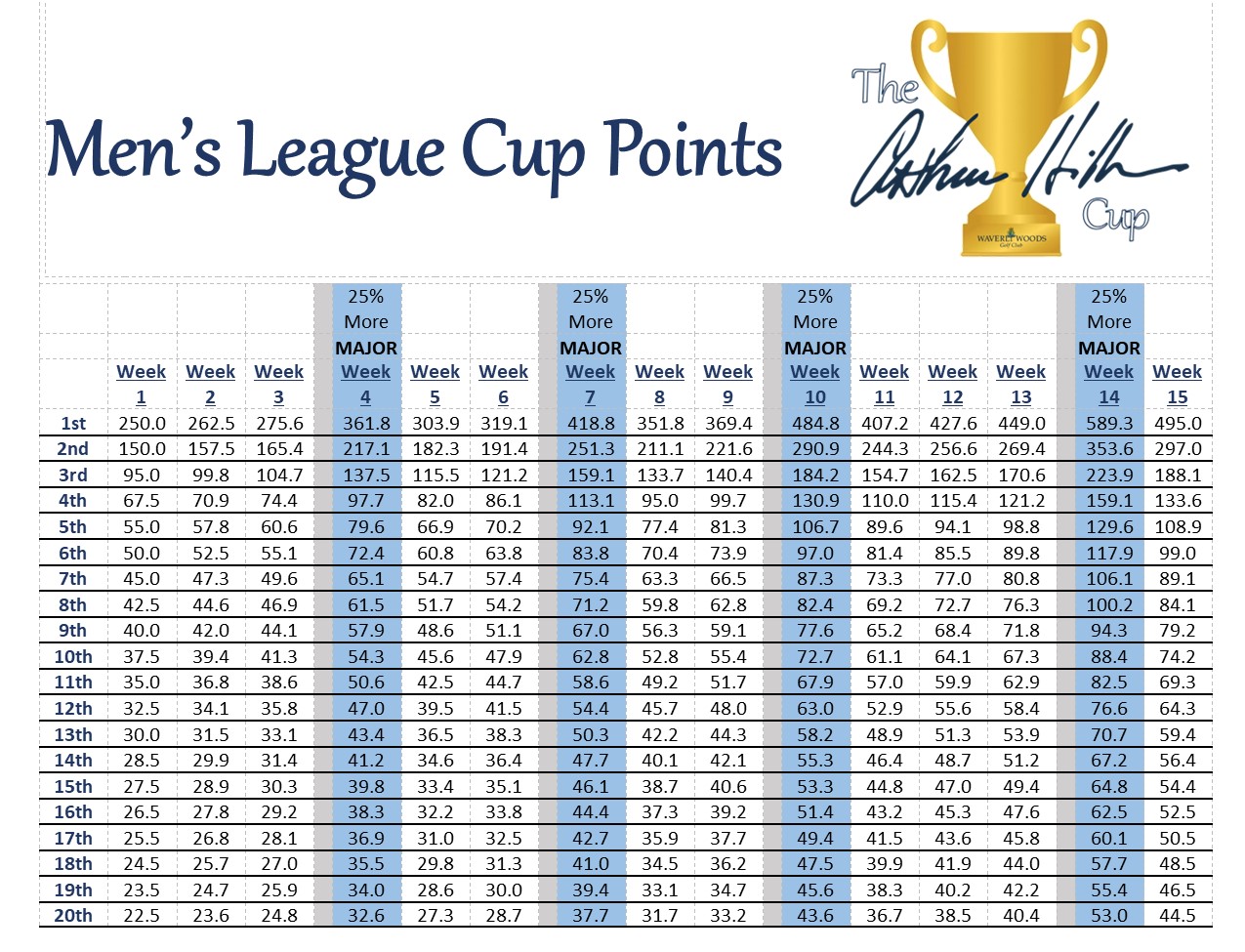 Playoffs
The Top 16 Players in each flight with the most Cup Points advance to the Playoffs at the conclusion of the Reg Season.
The Playoff format will be Bracket Style Match Play. 1 vs. 32,  2 vs. 31, and so on.
Playoff Purse will payout to those that reach the Elite 8.
Weekly Format Descriptions
Fewest Putts
Only strokes taken with a putter on the putting surface are counted. No handicaps are used to net down the number of putts made. The winners will be the player making the fewest (gross) putts.
Stableford
Stableford encourage players to accumulate points using the following scoring format:
0 points for Double Bogey or worse
1 point for Bogey
2 points for Par
3 points for Birdie
4 points for Eagle
5 points for Albatross
Modified Stableford
Double bogey or worse: minus-3 points
Bogey: minus-1 point
Par: 0 points
Birdie: 2 points
Eagle: 5 points
Double eagle: 8 points
Skins
For a Skins Game each hole is worth a skin. The golfer with the lowest score on a hole wins the skin. If two or more players tie then the 'Purse' for that hole is split amongst the winners. Skin's don't carry over to the next hole in this league format.
CTP on Par 4's & Long Drive on Par 5's
You will have 7 opportunities to compete & win in this unique CTP/ LD challenge that takes place on all our Non-Par 3 Holes. You will be eligible to compete in each of the 5 CTP contests & 2 Long Drive holes.  Your 2nd stroke is what will be used to compete against the playing field to determine who is closest to the pin on each par 4. For your 2nd shot to be eligible, your ball must come to rest on the green. For the two Long Drive contest holes, your ball must come to rest in the fairway to be eligible.
Front-9   CTP Holes: #1, 3, 4, 6, 9     LD Holes: #2, 8         Back-9   CTP Holes: #10, 12, 14, 16, 17      LD Holes #11, 18
Net Stroke Play (Played in all Majors)
Definition: Stroke play is a round of golf in which the score is kept by adding the cumulative total of strokes taken throughout the round. Your league handicap is subtracted from the total strokes to give a net score.
General Rules
The USGA Rules Govern All Play with the Following Local Rules:
Play all hazard stakes as if they were Red, meaning play it as a LATERAL HAZARD. That way there are no OB stakes to worry about allowing you to drop a ball within two club lengths of where it last crossed the hazard. If you ball comes to rest in an area that would normally be OB you may NOT choose to hit you ball like you would if the stakes were truly red.

Must Play the Ball Down / As it Lies

Must Putt Out Every Shot

Max Score on a Hole = Par + 5 Stokes. This means you play beyond Net Double Bogie.
Tees
White Tees = Ages 18 – 59
Gold Tees = Younger than 18, 60 or older (HCP adjusted accordingly)
Tees must be designated before your first match; same tees are played for the remainder of the season.
Handicaps
Official USGA "League Play" handicaps will be used to score each competitor.
100% of each player's index will be used for established league handicaps.
If a player shoots a score greater than Net Double Bogie on a hole, their score will be adjusted to reflect Net Double Bogie for handicapping purposed only. If you shoot a Gross 10, Net 9 on a Par 5 you would record a 10 net 9 on your actual scorecard. You would not stop playing after you reach Net 7 on a Par 5.
Penalty Rules
Ball Lost, Ball Out of Bounds, or Ball in a marked Hazard
All Out of Bounds will be played as a lateral hazard.
You MUST take a drop two club lengths from the point the ball crossed the hazard. (one penalty stroke)
If the course is marked OB you CAN NOT play the ball as it lies, you must take the drop. (Do not hit the shot from someone's back yard, please!)
Water Hazards- All water hazards are lateral (Red Stake)
Start of Play
League fees MUST be paid 10 minutes prior to the start of your tee time for each player/substitute or that player will receive a 2 stroke penalty on their first hole.  League fees must be paid before a player proceeds to the course or a disqualification will result. For a complementary bucket of range balls you must arrive 20 min before your tee time. In addition, any player not physically present for the shotgun announcement receives a 2 stroke penalty on their first designated hole.  If a player is not present on their starting hole before their group leaves the teeing ground, they will incur a score of PAR + 5 Stokes for that hole, and any subsequent holes in which their group has already left the teeing ground before they arrive.
Pace of Play
All 9 hole rounds are required to be completed with score cards turned in NO more than 2 hours and 20 minutes after your scheduled tee-time.
Failure to keep pace will result in a warning (1st offence), Players put on the clock (2nd offence), and Players required to skip a hole or holes (3rd offence). If a hole is skipped a player will record Par+5 strokes.
Eliminate honors in your group, play when safe and ready!
Course Care
We ask that you fix your ball mark and any ball marks in your line of putt.
When taking a divot, please replace your divot.  Use the sand only if your divot has shredded.
Rake any bunker that you walk into whether you play out of it or not.
Please keep all carts on the path around tees and greens.
GOLFLEAGUESITE App & Website
Everything from weekly signups, tracking league handicaps, viewing results, to seeing where you currently sit in the playoff bracket is now done using GolfLeagueSite.com
Signing Up for Weekly Times
Signups go live at 12pm the Tuesday prior to each Monday Event. Visit GolfLeagueSite.com and follow the instruction found below to signup for your weekly times. The weekly Sign-Up Portal will close at 11:59pm every Friday leading up to that week's competition. Anyone who waits until the day of to register is not guaranteed to compete for weekly cup points or be eligible for challenge payout.
Once you are logged into your profile
> Go to the top tool bar and select LEAGUES
  >The Select the League you are trying to book a tee-time for
    >Then Go to the Top Tool Bar and Select INFORMATION
      > Use the drop Down menu and select SCHEDULE
        > The Select the Appropriate WEEK
LIVE Scoring App.
It only takes 12 minutes to download the GolfLeagueSite Live Scoring App on your smartphone and watch the demo video on how to use the live scoring feature. You can even designate one player in your group to submit everyone scores so not everyone has too. It is super easy and very user friendly.  Click on the link https://golfleaguesite.com/live_scores/about using your smart phone to select the iOS or Android app to download. You can also search for the app through your phone's app store, it does not cost you a penny. Once you have downloaded the app use the same email and password you verified earlier on GolfLeagueSite.com. Now Watch the Demo and you ready for our New Live Scoring feature.
Avoid these when entering scores in the App.
Please DO NOT enter all pars for a player if they do not show up. It slows down the process of getting weekly results finalized and puts a lot more work on us to figure everything out. Look at it this way, If I did not show up to a match, you would not write all pars for me on a paper scorecard, right?  Just make sure if a player does not show up, be sure to remove him/her from the app scoring.
If you have already begun scoring you cannot remove a user – you must have to delete it and restart by deselecting that user so that he does not show up on the live scoring.
Avoid starting the live scoring app until you get to the first tee.  We have seen a reoccurring problem creep in more because folks are firing up the live scoring app at home at noon for their 4pm match, then when they get to the course, they realize that the other team did not show up, so they just leave par on the scorecard for all their holes.
---
SIGN-UP FOR THE 2022 MONDAY MEN'S LEAGUE IS NOW COMPLETE – AS ALL SPOTS HAVE BEEN FILLED. IN THE EVENT THAT WE HAVE AN OPENING, WE WILL RE-OPEN SIGN-UPS.