General Manager- Jason Donati
After six successful years of managing Blue Mash 'sister course', Jason comes to Waverly Woods to do what he doe's best. Give customers a country club experience only at a semi-private course. From the weekend warriors, to the Corporate & Charity Outings, Jason will go out of his way to ensure Waverly stays at the top of your 'Most Desired Courses To Play' list. He'll even wear a Title Sponsor hat for the day if it helps being in more money for a charity event. Jason's excited to return to the area since he considers himself a Baltimore native having attended the, St. Paul's School & Towson University. Surprisingly, you would not have found him on the links in high school or college. Most of his time was spend on an artificial playing surface. "I grew up playing many different sports at a very high level.  I found a way to take that same passion, success, & dedication I had playing lacrosse and apply it to the business side of Golf," says Donati. You can contact Jason at jdonati@waverlywoods.com or call him at 410-313-9182.    
Superintendent – Michael Bostian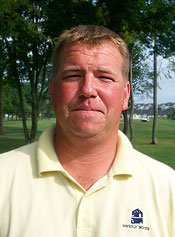 Michael Bostian has been at Waverly Woods since 2006, after serving as the assistant superintendent at Blue Mash for four years prior. Mike's attention to detail is second to none, and he does an outstanding job of providing beautiful playing surfaces day in and day out. Michael enjoys playing golf whenever he has the time.The game of golf is what led him into this profession.He concentrates on golf course playability at all times when planning agronomic practices and daily maintenance.His goal at all times is keep the golf course playing as firm and fast as possible and to help Waverly Woods become the best public golf course in the Baltimore metropolitan area.He also enjoys the fact that he can bring his dog, Bo, to the golf course everyday.He is willing to help answer any question or concerns about the course from golfers who play Waverly Woods on a regular basis.He can be reached at mbostian@waverlywoods.com.