Improve Your Game Through Instruction
The teaching facilities at Waverly Woods are some of the finest in the state of Maryland. Lessons are conducted on the expansive practice facilities which include a large grass surface driving range, top-notch bent grass putting green, and a separate chipping green with sand bunkers.
Waverly Woods Golf Club offers several top-notch instructors to choose from. No matter what your skill level, these teachers will help you improve every aspect of your golf game.
Click any of the instructors to learn more about them:
---
Marc Fine
Marc is honored to help maximize your golf potential, achieve your goals and improve your putting stats through your own swing. With a specialty in putting and the short game (70% of your score), Marc will help identify your individual strengths in order to create a core of essential golf skills.  As an SPI Qualified Fitter/Instructor for SeeMore Putters, Marc can custom fit, identify improvements, and supply your own SeeMore putter, the most often used club.  From the green back to the tee box, Marc revels with the opportunity to help you. 
Fine's Fundamentals
AWARENESS – the key to all things
TARGET, TARGET, TARGET
Simple solutions are the best – you have unique skills and a gifted stroke
Every player has a different swing, every lesson is for you
Embrace your game, it's yours
Practice is paramount, essential and your path to achieve your goals
Reach Marc at 410-615-6000, marc@fineputt.com and www.fineputt.com

The Answer®
Putting is my love and the short game a specialty. I use my exclusive putting training aid called The Answer®.
All people are different, so each putting stroke is unique. Let's discover your stroke without gimmicks!
Testimonials
The Answer® is simply the best training aid I've ever used. I use it for 15 minutes every day and have incorporated it into my pre-round routine. The feedback is instant and I now step up on the green with confidence.
Marc Fine is a wonderful putting instructor and he is remarkably patient. He simplifies putting so there is not too much to think about. Marc taught our son to keep the club on plane by using The Answer®. Now our son is more confident in his putting and his scores are lower.
Marc, be it putting, chipping or working on the full swing, has an uncanny ability to communicate how to make the swing correctly. Marc won't fit you into a system, but instead guide you to find "your" better swing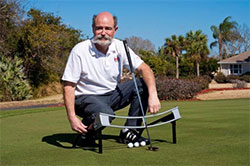 Clinics, groups, corporate outings, speaking engagements are also available.
Please call 410-615-6000 or email marc@fineputt.com check out his web site "fineputt.com" and see Marc at the club, you will not be disappointed.
Areas of Instruction
Individual Adult and Children's Lessons:
Playing lessons (9 or 18 Holes)
Clinics
Assessments – Identify your stengths
---
Rick Krebs, PGA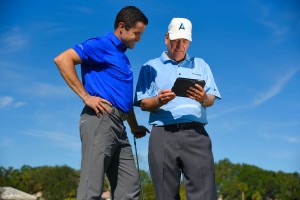 About Rick
PGA of America Member since 1977
Certified Golf Coach
Middle Atlantic Section PGA "Teacher of the Year" 2001
Golf Magazine Top Teachers in the region
Golf Digest Top Teachers in Maryland (Ranked as high as #4 by his peers)
Attended 9 National PGA Teaching and Coaching Summits
Instrumental in the success of the first Mid Atlantic PGA Teaching & Coaching Summit
Offers instruction for PGA apprentices to pass Playing Ability Test
Taught Middle Atlantic PGA summit programs
Has played competitive amateur and professional events for over 30 years
Golf Philosophy
Everyone can achieve their "realistic" goals. Rick assesses the skill(s) that are costing you the most strokes, then starts you on your personal improvement plan to play better and have more fun. All programs are designed with the focus on teaching, coaching, practice, and training. Programs include fundamental development in all areas of the game: set-up, full swing, short game proficiency, and on course mental skills to play your best.
For New Student Assessment & Programs, go to rickkrebsgolf.com
---
George Bradford
About George
Current Member of the Canadian Professional Golf Tour
Has competed on the PGA and Nationwide Tours
2008 Canadian Tour Season: 5th on the Order of Merit with 4 top three finishes
17 Professional Victories
2010 Guest Speaker Goldman Sachs first Annual "Diversity Week"
95-97 Member of the University of Maryland Golf Team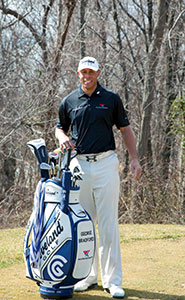 Golf Philosophy
90 percent of every golf shot is determined before you swing the club-FOCUS ON THE 90 PERCENT
Areas of Instruction
Full Swing
Short Game
Putting
Course Management
Proper Practice
Lesson Structures and Pricing
Private $110/Hr
Junior Rate $85/Hr
Full Day $500 (6hrs)
Playing Lessons $200 (9 holes)
Short Game Assessment $150 (1.5hr)
Direct: 240-351-8970
Email: gcovingtonb@gmail.com
Also available for outings and group clinics
---
Joining the Instructional Program at Waverly in 2022…
Paul Maurer, PGA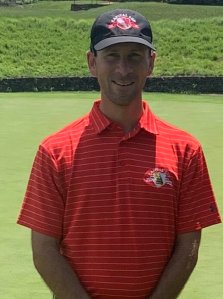 About Paul
PGA Member since 2016 and became specialized in Teaching & Coaching in 2021
Recognized by US Kids as a Top 50 Junior Coach in 2021
Served on the MAPGA Junior Golf Committee from 2017-2019
Certified in Trackman (Level 2), TPI Junior (Level 2), SAM Putt Lab (Level 2), BodiTrak and K-Vest
Member of the Skilled Coaches Alliance
Owner and Director of the Paul Maurer Golf Junior Academy; the premiere Maryland junior golf community
Points We Can Cover
Game Evaluation
Skill Training
Technique Development
Practice Design
Strategy
Decision Making
Trackman Ball and Club Analysis
BodiTrak Pressure Analysis
Having more FUN!
I'm fully committed to helping you progress along your golf journey!
For scheduling, contact or more information, please visit paulmaurergolf.com
---
Joining the Instructional Program at Waverly in 2022…
Do Kim, PGA
About Do
● PGA Teaching Professional since 2018
● 7+ years of teaching experience
● Level 1 US Kids Certified Coach
● Fluent in both English and Korean
● Full time Coach at the Paul Maurer Golf Junior Academy
● Coached multiple kids to the US Kids World Championship
Areas of Instruction
● Full Swing
● Short Game
● Putting
● Course Strategy
● Tournament Strategy
---
Corey Andrews
"A native of Baltimore, Corey Andrews is a Golf Professional and PGA Associate with a decade of experience in the golf & hospitality industry. Corey has a passion for golf instruction and learned to teach the golf swing under the guidance of some of the best PGA teaching professionals in the Baltimore-Washington area. Additionally, Corey's teaching style has been influenced by the methods of well-known instructors such as Mike Bender and Jim McLean. Corey believes that golf instruction should be accessible for all people, and that all people are capable of playing golf in an enjoyable way.
Please contact Corey at corey@waverlywoods.com or 410-456-6815 to inquire about lessons."